Spring Camp 2019
Spring Camp, March 11th - 15th 2019
Two Locations in Coppell with Different Themes!!
Learn How to Mod Minecraft Using Code @ THE CORE, Coppell
We'll teach your young learner how to make new items, how to manipulate every aspect of the Minecraft world, and how to design your own mini-games!

They will learn/improve on important skills like critical thinking, logic and reasoning skills while have a lot of FUN!!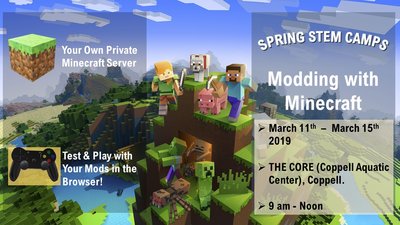 Engineering & Robotics @ Excel Academy, Coppell
Program 3 - 5 bots through the week and debug real time bots applying the concepts learnt in class and then transition into the world of the electrical engineering & robotics with LEGO WeDo and LEGO Mindstorms.
We prepare our students to participate in First LEGO League Competition.
Great class for engineers of tomorrow!!